Japan, not known for its over-the-top eating habits, is taking a step toward becoming a true Fast Food Nation. Burger King Japan's new 1,160-calorie 'Meat Monster' is stacked high with two hamburger patties, a chicken breast, two slices of cheese, and three slices of bacon (plus lettuce, tomato, and onion, perhaps as a token nod to health). Of course, the West has provided plenty of inspiration in the past. Here, some of the heavyweight sandwiches that have captured headlines and increased waist sizes in recent years:
1. Hardee's Monster Thickburger
In 2004, Hardee's introduced a cheeseburger that tipped the scales at 1,420 calories and 107 grams of fat. The ingredients: Two slabs of Angus beef, four strips of bacon, three slices of cheese, and gobs of mayonnaise on a buttered sesame seed bun. Health advocates attacked the franchise, but Hardee's chief executive Andrew Puzder was defiant. This is "not a burger for tree-huggers," he said. "This is a burger for young hungry guys who want a really big, delicious, juicy, decadent burger."
2. KFC's Double Down
The Double Down, which debuted on KFC's menu in April 2010, consists of two slices of cheese, two slices of bacon, and special sauce — all sandwiched between two fried chicken fillets instead of bread. The sandwich, which has a relatively tame 540 calories, but an incredible 1,380 milligrams of sodium — gained a cult internet following before it even came out, and upon its release, bloggers rushed to sample it. "I seriously think my heart stopped for a second after I ate that," said Joe Golfen at The Arizona Star.
3. Burger King's pizza burger
Last year, Burger King unveiled a 2,520-calorie pizza burger, available for a limited time at its New York "Whopper Bar" restaurant. The pizza burger comes on a 9-inch sesame seed bun cut into six pizza-like slices. The concoction includes four Whopper-sized patties topped with pepperoni, mozzarella, Tuscan pesto, and marinara sauce. "My theory," said Dan Hopper at Best Week Ever, is that after the success of the Double Down, Burger King released this "giant fat ring" simply because it knew that the patent absurdity would get people talking.
A British couple in Brooklyn is really getting into the American spirit, selling nothing but deep fried goodness out of their Park Slope Chip Shop. I'm not talking just French fries here. I'm talking twinkies, Mars Bars, and Oreos. When doubling the calorie count of your meal is your goal, this is certainly the way to go.
Source / Source
20. Lobster Roll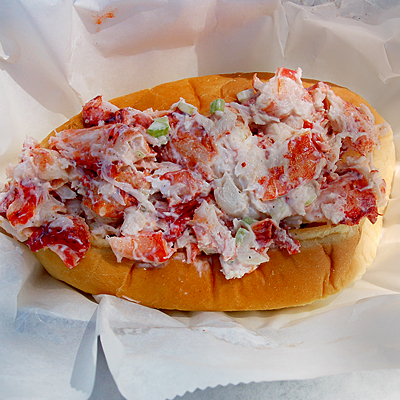 You haven't tasted heaven until you've had a lobster roll. A decadent mix of mayonnaise, butter and lobster meat, the lobster roll is so bad for the body but so good for the taste buds. The lobster roll you get at pizza shop Papa Gino's carries about 34 grams of fat.
1) Although most people have heard of the Philly cheesesteak sandwich, chef Todd Miller at Philadelphia's Barclay Prime restaurant makes the $100 Philly cheesesteak. The expensive top-of-the-line ingredients of this
AdChoices
sandwich include Japanese Kobe-style beef, imported Taleggio cheese, shaved truffles, and goose liver foie gras on a brioche roll brushed with truffle butter.
3) While, you can find the chow mein sandwich at Nathan's famous original Coney Island stand, it is a regional staple in Falls River, Massachusetts. No one seems to know who invented it first, Coney Island or Falls River. The sandwich is beef chow mein in a burger bun.
4) Another strange sandwich with an Americanized Chinese key ingredient is the St. Paul sandwich which consists of an egg foo yung patty, mayo, lettuce, pickles, and tomato on bread. Even stranger, the sandwich comes from St. Louis, Missouri, not St. Paul, Minnesota.
St. Louis, for some unknown reason, is a mecca for unusual foods like toasted ravioli. Schottzie's Bar and Grill's breaded pork brain patty sandwich is another strange St. Louis sandwich.
Certainly the most outrageous international sandwich is Sweden's Smorgastarta, also known as a "sandwich cake." While it has sandwich ingredients (many many sandwich ingredients), the Smorgastarta looks like a dessert cake and is eaten like a dessert cake. If it were up to me, I'd call it a "smorgasbord sandwich."Here are just a few of the possible toppings and fillings: layers of buttered white bread, liver pate, olives, hard-boiled eggs, black or red caviar, cream cheese, smoked salmon, chopped shrimp, smoked ham, roast beef, cheddar cheese, pickled cucumber, tuna, clams, green peas, pineapple, bananas, brie cheese, bacon, mushrooms and black pepper.